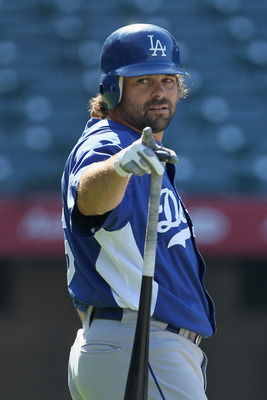 It was just a few months ago, Colletti was on a tear handing out two-year deals to pretty much any player that would take one. I recall after Mark Ellis, Adam Kennedy, and Jerry Hairston were signed, a plea from this guy called out asking why Aaron Miles wasn't brought back? Miles was a key part to the Dodgers success in 2011, coming off one of the best seasons of his career. Bringing Miles back on a cheap one-year deal made so much sense to pretty much everyone but Ned Colletti.
So with Hairston and Rivera going on the disabled list, and Kemp still dealing with his nagging hamstring also, the Dodgers got smart and went and signed Miles to a minor league contract, according to Dylan Hernandez. It's said that Miles may have priced himself out of the market, and went on unsigned, until now.
Miles, 35, has reported to the Dodgers Arizona training base at Camelback Ranch-Glendale for extended spring training. Miles is a .281/.320/.352 career hitter who has spent the majority of his playing time at second base. On the plus side Miles has experience at almost every other position though, so he will slide into the role Jerry Hairston had been filling, who is not expected to return from the disabled list for at least another two weeks.