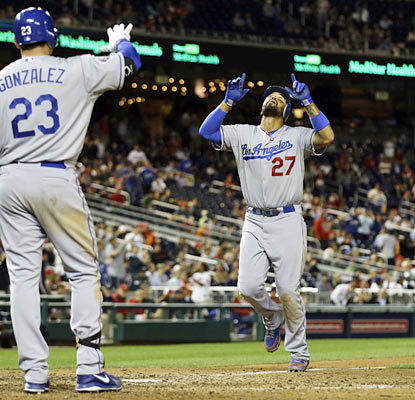 The Dodgers kept their playoff hopes alive and remain three games back of the final wild-card spot after winning two of three games against the NL Central champ Cincinnati Reds this weekend. Matt Kemp and Adrian Gonzalez led the way with their big bats and Clayton Kershaw returned from a hip injury to pitch the final away game of the season. The Dodgers head to San Diego to finish up their 9-game road trip. The Dodgers will then return home for the final six games of the season as they look to secure a playoff berth for the first time since 2009.
While hope remains, the chances of a playoff berth are dwindling. The good news is the Dodgers get San Diego who are 73-80 on the season. The Dodgers will then head home to take on the 58-94 Colorado Rockies in a must sweep 3-game series. Closing off the season, the Dodgers will take on the 2012 NL West division winners, the San Francisco Giants. With the Giants already clinching the NL West, hopefully their minds will be on the playoffs and not on keeping the Dodgers out of the playoffs, and ta-da the Dodgers win the wildcard.
Unfortunately it will not be that easy, the biggest hurdle the Dodgers have to overcome is keeping players on the field, something the Dodgers have battled with all season long. Assuming Matt Kemp plays in the final 9 games of the season, Kemp will have officially missed 56 games during the 2012 season. Kemp is a game-changer and had he played in at least 160 games this season, it's easy to argue the Dodgers would easily have secured a wildcard spot, and be in the hunt with the Giants right now for the division title. But that's not all, the Dodgers lost Chad Billingsley for the season, along with Ted Lilly, Todd Coffey, Scott Elbert, and Jerry Hairston Jr. Of course the Dodgers have also had to deal with Clayton Kershaw missing a few starts, as well as key players like Javy Guerra, Dee Gordon, Andre Ethier, Mark Ellis, Kenley Jansen, and Matt Guerrier all spending a decent chunk of time on the disabled list this season.
Add Kemp's and the rest of the Dodgers injuries up, and I think this 2012 Dodgers would have an additional eleven wins to their credit right now. The Dodgers have been forced to overcome the impossible in 2012, the fact that the Dodgers are still in the playoff hunt is quite simply a miracle. All the Dodgers need to do is get on the same page and do the impossible for nine more games. As we all know, it's a whole new season once the playoffs start.