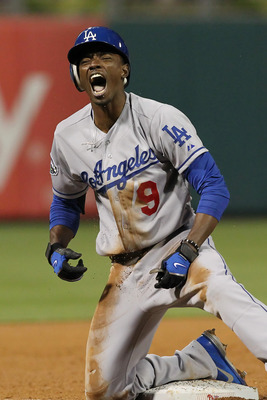 The Dodgers have been bombarded with inquiries regarding shortstop Dee Gordon, tweets Scott Miller. It's not looking a trade is imminent, but the Dodgers have made it apparent that they are willing to part with Gordon for a "significant return." What better meets the definition of "significant return" other than Felix Hernandez. The Mariners are among the teams hitting the Dodgers hard on Gordon, tweets Miller.
Gordon, 25 in April, hit .228/.280/.281 in 330 plate appearances this year. He missed a big part of the second half of 2012
due to thumb surgery. Upon his return Gordon found himself in a bench role after the superb play of Luis Cruz. Prior to the 2011 season, Baseball America ranked Gordon the 26th best prospect in baseball, citing the potential for four plus tools. I think it's a little too early to give up on Gordon, but would you really do with him at this point? Hanley Ramirez has already been named the starting shortstop, little room for a top prospect like Gordon.
I'm liking the idea of a package built around Zach Lee and Dee Gordon for Felix Hernandez.