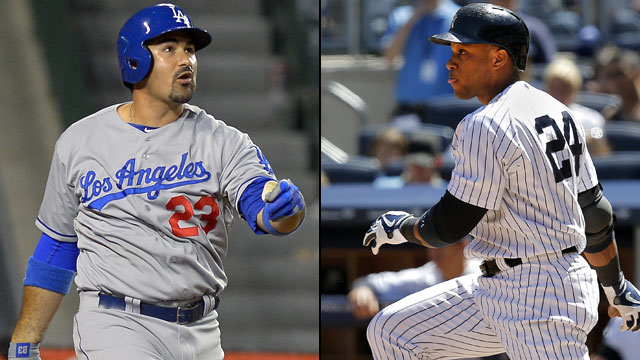 It's not like the Dodgers don't have momentum going into their Tuesday series against the Yankees. July has been a month fans and players will be sorry to see pass. In it the Dodgers have gone 18-5 and taken over possession of first in an always gridlocked NL West by 2.5 games. To cap off the month, the Dodgers will host the Yankees for two games at Chavez Ravine.
For the first game, Dodgers fans get to watch Ricky Nolasco take on the ageless Andy Pettitte. Despite an ostensibly shaky 6-9 record, Nolasco has been a formidable starter at times for LA this season, compiling a solid 3.72 ERA and respectable 1.24 WHIP. Tickets to Game 1 are, on average, $150, with some available for as low as $32, according to TiqIQ.
In Game 2, former Dodger Hiroki Kuroda will be battling current Dodger Zack Greinke, who's having a fabulous season on the hill, including two straight shutout appearances in July. On a withered Yankees pitching roster this season, Kuroda has been the team's saving grace. In four July appearances, the Japanese-born pitcher has surrendered only two earned runs, capping a stretch in which he was one of the league's best pitchers.
How do tickets to the Yankees-Dodgers series stack up with other Dodger home games? According to TiqIQ, the average prices for Dodgers tickets at home is $65, meaning this series is well above what fans are used to paying. Across America, though, ballparks crank up prices when the Yankees come to town. The NY team's road average is $123, TiqIQ reports.
Overall, this Yankees series is the Dodgers most expensive in the past three seasons, a startling stat. The series average is $145 for a seat, 123 percent above the Dodgers' home average, and 18 percent above the Yanks' road average.
This year will be a bit of a role reversal, though. While Dodgers fans may have previously entered August kicking dirt in frustration, they've got what looks like a better squad on paper, led by the league's best pitching staff, this time around.